History of National Cheng Kung University North American Alumni Foundation, Inc. (NCKUNAAFI)

The Foundation was established in 1996 in Washington, D.C. by the joint efforts of dedicated NCKU alumni of North America. (The Foundation was established in 1996 by three alumni, H.N. Wu, N.N. Ko, and L.J. Kim, and was initiated in 1994 by alumnus Mouying Fu.) Its purpose is to:

1. To promote the welfare and friendship of the members, to publicize their achievements, and to assist them in social and cultural activities.
2. To support our alma mater to promote major projects, to cultivate and recruit outstanding faculty, to set up various scholarships, and to improve the ranking of NCKU, etc.
3. Organize fund-raising activities and academic seminars to promote professional, scientific and cultural exchanges among members.
4. To help alumni who are in need of assistance to improve their financial situation, including the provision of interest-free loans, etc.

The Foundation has a Board of Directors that meets regularly to make decisions on important matters. A team of volunteers, including the Chairman, President, Secretary, and Treasurer, serve on the day-to-day affairs of the Foundation. The staff meets regularly to discuss business development. Since its establishment, the Foundation has recognized several outstanding alumni and alumni who have worked quietly, hosted many academic seminars, published regular newsletters and annual magazines, co-organized the North American Cheng Kung University Biennial Conference, supported alumni activities, developed and maintained the Foundation's website, set up a charitable fund to donate to alumni in need of assistance, and transferred scholarships, etc. Translated with www.DeepL.com/Translator (free version)


Past projects served by the Foundation include the following
Awarded scholarships to descendants of North American alumni, as well as scholarships to visiting scholars and current students of the alma mater.
To support alumni who have suffered tragedies and hardships (e.g., a Chicago alumnus who passed away at a young age and left behind a young daughter, a young alumnus who was killed on 911, an alumnus in San Francisco who was sick and uninsured, etc.).
Donations for natural disasters (in Taiwan, Mainland China and USA)
Established the "Angel Fund" and "Entrepreneurship Mentorship Team" to fund and encourage NCKU young professors to innovate technology.
Sponsor NCKU Alumni Association North America biennial meetings (since 1997) to increase alumni networking and promote interactive relationships between alumni and alma mater. At the meetings, awards are presented to outstanding alumni and hard-working alumni to encourage the core values of NCKU.

The Foundation's Beginnings. Written by H.N. Wu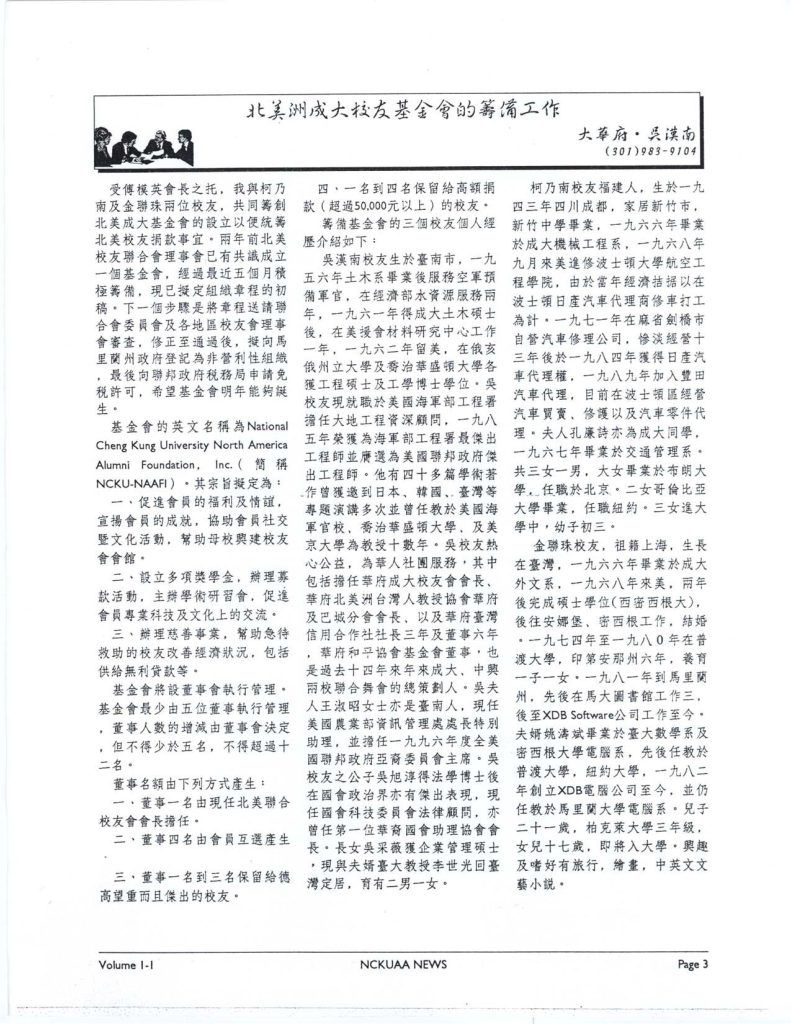 The Foundation's Early Newspapers
1996Newspapers
1997 Newspapers
2005年基金會報刊