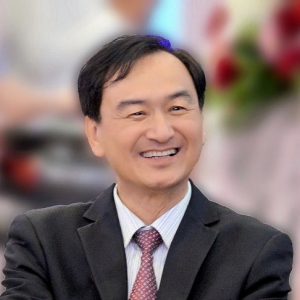 Vice President Fang-ching Su also served as Administrative Vice President of Ministry of Science and Technology and Executive Director of the Executive Yuan Biomedical Industry Innovation Promotion Program (2017.2-2018.7), Chairman of the Board of Directors of the National Disaster Prevention and Relief Technology Center, Executive Yuan, and Executive Secretary of the National Science and Technology Development Fund Administration. In terms of university affairs, he served as Acting Dean of the College of Engineering (2020.8-2021.6), Director of the General Research Center of NCKU (2015-2017), Founding Director of the Foresight Medical Device Technology Center (2011-2017), Vice President of Research and Development Office of NCKU (2010-2011), Director of the Institute of Medical Engineering, and Founding Director of the Musculoskeletal Research Center of the General Research Center. Director.
He has been actively involved in important academic activities abroad, and is dedicated to biomedical engineering research and innovation, serving as co-editor-in-chief of Biomedical Engineering OnLine and Journal of Medical and Biological Engineering. He is the President of the World Association of Chinese Biomedical Engineering (WACBE, 2017-2019), a member of the World Council of Biomechanics (WCB, 2014-2026), and a founding member of the Asia Pacific Association of Biomechanics (APAB). He is a visiting professor at the University of California, San Diego, the University of Rochester, and the University of Oregon, and a visiting scientist at Mayo Medical Center, USA. He has served as the President of the Biomedical Engineering Society of the Republic of China (2011-2014), the President of the Taiwan Biomechanics Society (2002-2003), and the Director of the Taiwan Association for the Promotion of Industrial Science and Technology. In addition to academic research, he has also focused on medical device innovation and industry linkage. He was the advisor of Taiwan Medical Device and Biotechnology Device Industry Association and the Secretary General of the Southern Taiwan Science and Technology Association. He was a member of the Presidential Science Award Committee, a member of the National Cooperation Strategy Review Committee of the Ministry of Science and Technology, and a vice convener of the 1st Smart Medical Devices Advisory Council of the Ministry of Health and Welfare.
He has received two Distinguished Research Awards from the Ministry of Science and Technology, the Lifetime Achievement Award from the Biomechanics Society of Taiwan, the Fifth Industrial Innovation Award from the Ministry of Economic Affairs, the Chou-You-Li Medal from the Biomechanics Society of Taiwan, the Han-Wei Medal for Biomedical Engineering Service from the Biomedical Engineering Society, the Outstanding Engineering Professor Award from the Chinese Society of Engineers, and the National Institutes of Health's Integrated Pharmaceutical and Health Sciences Research Program, which has received more than six funding grants, the National Innovation Award, Outstanding Professor, Outstanding Industry-Academia Collaboration Award, and Outstanding Engineering Research Award from National Cheng Kung University.